康薈環境服務公司 是香港多功能的專業滅蟲和清潔服務公司。 主要向各類型的客戶提供白蟻防治、蟑螂、老鼠、蚊子、蜜蜂等昆蟲的防治、家居清潔和商業地氈護理服務。 對本地各行各業的滅蟲要求,亦甚為瞭解。並為客戶提供優質及靈活創新的蟲害防治方案。我們亦是香港蟲害控制從業員協會 (PCPA) 會員,每位員工均具有多年蟲害控制的實際工作經驗和專業知識,能應付不同環境的蟲害問題。
藥物方面,我司所選用的全是香港漁農署註冊的環境藥劑,均能符合國際安全標準。並從外國引進了超低容量殺蟲噴霧器 (sprayer)、煙霧機 (Thermal Fog Applicator)、大型機動噴霧機等專業設備。 而我們的滅蟲服務主要是根據客戶的現存環境和未來變化,來評定和選取最合適的藥物和機器來進行防治服務。 此外,我們亦會在服務後提議一些意見給客戶 (例如: 環境防治和預防措施) 務求令客戶得到專業、安全、貼心的服務。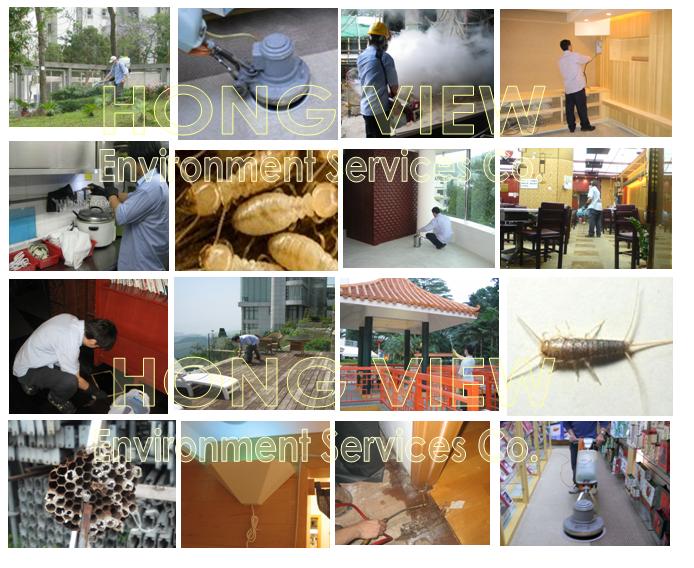 Hong View Environment Services Company provides a wide range of pest
control such as termite control, cockroach control, rat control, mosquito control, bee control and specialize pest control project. We are member of Pest Control Personnel Association of Hong Kong (PCPA). The pesticide is safety, environmental friendly and strictly chosen. The revolutionary odourless technology also make the pesticide fresh and safe. All pesticides had been approved by Hong Kong Agriculture & Fisheries Department. We also purchased a professional Compression Sprayer, Thermal Fog Applicator and Electric Sprayer from foreign country.
With our specialist expertise and well experience, Hong View Environment Services Company is well positioned to provide value to customers in the area of cost saving, improved efficiency and flexibility.



* 樓宇住宅
* 商業樓宇 / 寫字樓 / 貨倉
* 物業管理
* 銀行
* 食肆 (餐廳 / 酒樓)
* 酒店 / 酒吧 / 會所
* 學校 (幼稚園/小學/中學/學院)
* 幼兒院 / 護老院 / 診所
* Residental
* Business building / office / warehouse
* Property management
* Bank
* Restaurant
* Hotel / Pub / Club House
* School (Kindergarten, Primary School,
Secondary School and College)
* Child Care Center/Eldery Home/ Clinic

九龍紅磡鶴園街2G號
恆豐工業大廈1期 3樓 E1室
Unit E1,3/F,Hang Fung Ind. Bldg.,
Phase1, 2G Hok Yuen St.,
Hunghom, Kln.
Tel : (852) 2627 0018
Fax : (852) 2627 0320
支援熱線 : (852) 8201 0168
主要服務:
滅蟲, 殺蟲, 白蟻, 蟑螂, 紅火蟻,
蜜蜂, 老鼠, 蟲鼠防治, 消毒服務
地氈清潔護理服務
Pest Control, Termite Control,
Rat Control, Bed Bugs Control,
Bee Control, Wasp Control, Fly Control
Cockroach Control, Mosquito Control,
Carpet Cleaning Services